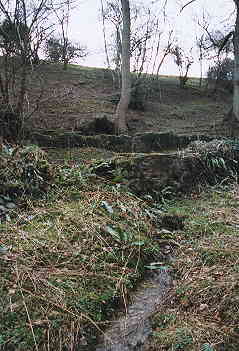 St Michael's Well - Well
(SE 2632 8173)
St Michael's Well is located by the side of a narrow lane on the west side of the village of Well (aptly named). The OS map places the well on the north side of the lane, but this is only the outflow from a pipe that carries the water under the road, The spring actually rises at the foot of a small rock outcrop, on the opposite side of the road, (under the tree in the centre of the pic) but the pipework has been extended right up to the springhead and so the water is not visible as it flows from its source.
This is a shame as it would be easy to remove this section of pipe and return the well to its former state, while still allowing the water to flow through the pipe under the road.
Another strong spring rises 150m further west and several more springs breakout along side the lane, these quickly form a flowing stream which heads towards the village providing the inhabitants with an excellent water supply in times past. The remains of a roman bath house by the village, shows just how long the waters have been valued.