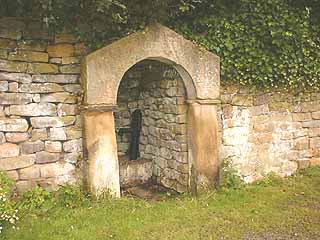 St Chad's Well
The arched recess in this wall houses a hand operated pump, which is positioned above a chamber in which the water collects. There was water in the chamber in June 1999, but unfortunately the pump had no handle.
R.C. Hope (2) mentions the conversion of Wulfhere, king of Mercia, whose story was portrayed in the medieval stained glass windows at Peterborough cathedral. The story, in verse form starts....
"The hart brought Wulfade to a well
That was beside seynt Chaddy's cell"
(However this verse is likley to refer to the St Chad's at Stowe near Lichfield)