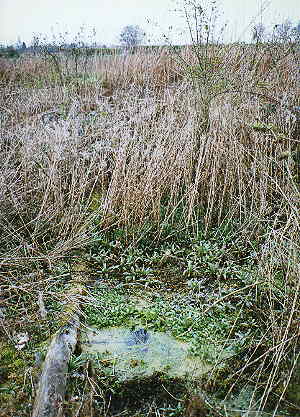 St John's Well - Stillington
(SE 5833 6720)
This holy well was originally noted on the modern OS map, where it is marked as a small pool in a wooded area by the road to Stillington village. Back in 1988 no obvious water source could be found as the area was impenetrable due to brambles and undergrowth. Since that time most of the trees in the wood have been cut down and a visit in January 1999 located a small boggy 'puddle' in the area where the OS marked the well. It is probable that the original pond has been filled up with leaf litter and other vegetation. In July 99 the area was again impenetrable because of brambles (raspberries!) but the extent of the pond/boggy area was nicely defined by a large circular patch of Great willowherb.
The first edition OS map shows this holy well as a square structure within a small circular enclosure, so this well appears to have been a significant site at one time, perhaps similar to the St Johns well at nearby Moxby.
The old OS map also marks the well as being chalybeate and on the southern edge of the wood there is a drainage ditch which showed signs of chalybeate waters seeping from the side of the ditch, indicating the water source is still present.