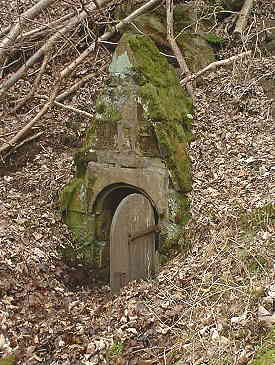 St John's Well - Mount Grace Priory
(SE 4495 9833)
St John's well is located on the steep hillside behind the ruins of Mount Grace Priory - a 14th century Carthusian monastery. On a visit to the well in February 1999, it appeared that the well had not been visited much since 1988, and a good depth of leaf mould had collected in front of the door, although inside, the well still contained a depth of clean, clear water.
Grainge (1), writing in the mid 1800's recorded that the well was also known as the Wishing well, where people wanting to make a wish (well wisher's?) would stick a pin through an ivy leaf and float this on the water. Elsewhere this practice was used as a form of divination with the turning of the leaf and the direction the pin pointed indicating a favourable (or not) response.
Grainge also notes the ruins of a Lady Chapel (on the hilltop behind the priory) which had been the scene of numerous healing miracles in the past.

(1) William Grainge, The Vale of Mowbray, 1859.